CSD - FOOD & BEVERAGE EQUIPMENT
Seppa is the leading manufacturer in the field of providing complete solutions for CSD and Beverages Projects. Backed by latest process support facility and team of experienced professionals, we are able to meet handling demands of complete project on Turnkey Basis from start to finish. With our expertise in designing, developing and implementing of solutions as per the defined steps in the project areas, we are able to assure customers of best available services in the market for handling Juice and Soft drink projects.Here, we are successfully providing complete engineering consultancy support including customized engineering support for meeting the needs of installing plants that are designed for the production of wide variety of beverages. The services of experienced project team comprising technical staff and service engineers also ensure that the complete project is implemented in a smooth manner while taking responsibility right throughout the project..
"CARBONATED SOFT DRINK"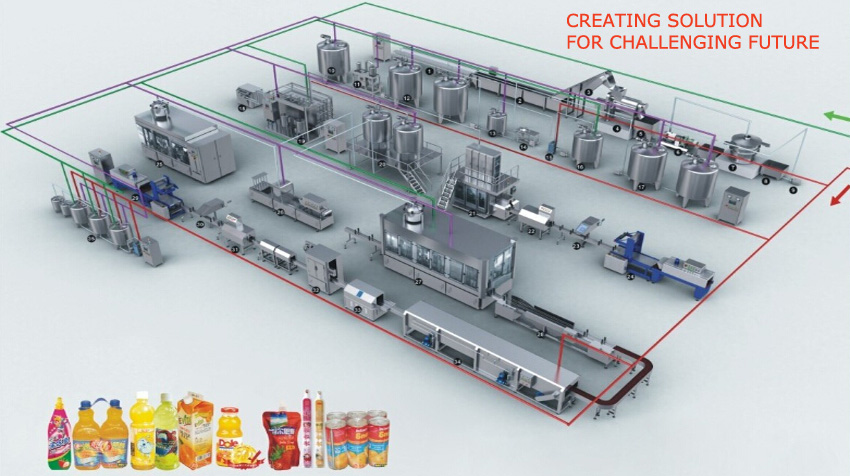 The soft drink line is customized in accordance to the industry needs. This soft drink line is developed in adherence to the quality standards by using quality material & advance techniques. Also, our quality controllers check this soft drink line at various quality parameters to assure a flawless dispatch. Taken various fresh fruit , juice concentrate, juice powder as main raw material, through dilution, extraction, cooking, grinding, homogenization, degassing and filling etc flow procedures, which can be manufactured into various fruit juice, flavor juice beverage. High standard design, manufacture and project installationrequirements, which guarantee the first-class finish products in various beverage Production line. PLC control the whole production line, saving labor force and facilitate production management. Full-auto CIP cleaning, to ensure whole production line equipments meet food sanitary safety requirements.
1. Water Treatment section 2. Fresh Fruit Production Section 3. Preparation section 4. Sterilization Section 5. Filling & Packaging Section 6. CIP Cleaning Section 7. Chiller 8. Compressor 9. Steam boiler 10. Installation Material